It's been over 3 years since I last wrote a post for this blog. Some really exciting things have happened in the meantime:
A couple of not-so-great things:
The Brown T Line to Allentown is still not running - but The Hardware Store and the Hilltop Alliance are generating some great energy for Allentown, and I expect good things to happen there.
We still have the PLCB and no tax on Marcellus Shale gas - but Corbett is on his way out the door.
And what drove me to blog:
I've been trying to get a crosswalk painted since May, and it's still not done.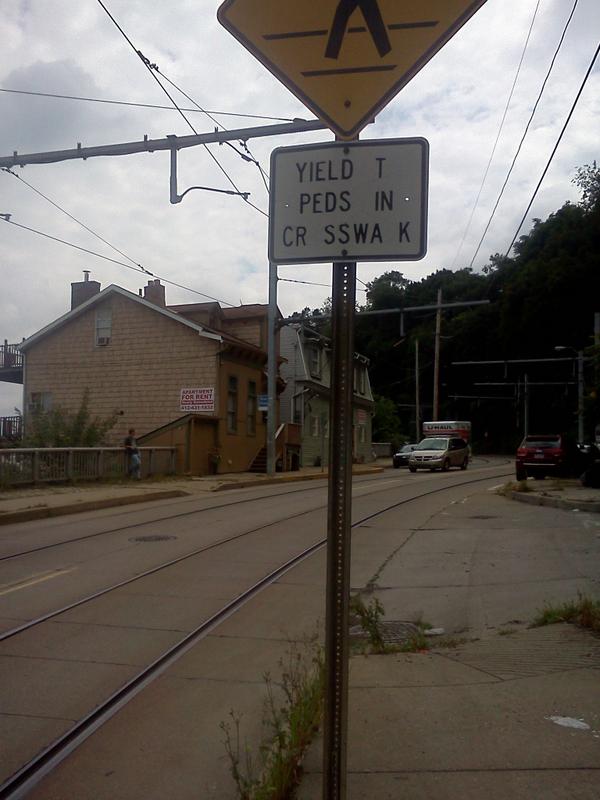 Some History:
May 14: I submit the request to repaint a barely there crosswalk on Twitter
July 7: I follow up multiple times on twitter and am told that the intersection is scheduled for painting.
July 22: Still not done, but I'm told it will be done in the next 5-7 days!
October 6: Since it's getting late in the season, and @pgh311 is no longer getting updated information, I reach out to my city councilman's office.
Kraus's office follows up and informs me that the city traffic engineer claims this crosswalk was never city maintained, and they have no record of it, so they will not be painting it. I call the office and to clarify and let them know that this is a standard city crosswalk with curb cuts and city signs to call attention to the crosswalk.
October 9
: After following up with the city traffic engineer, Kraus's office informs me that the work-order has been forwarded to the line striping crew and back on schedule with a new ticket #
413410.
October 24: Still not done. "I heard back from the painting foreman today and she assured me that your crossing is on the list to be painted. Her words to me are that this will be taken care of literally as soon as they can get a truck over there."
December 10: Still not done.
What Next?
Will I start trying again in the Spring? Or will I give up? Will someone else in the area re-start the same process all over again?
In the meantime, I've also watched the attempts of
@southsideslopes
to get wooden forms removed from a set of steps. I've followed along with the requests of
@moarhops
to get a construction sign removed from a sidewalk. Why is it so hard for these "little" quality of life issues to get addressed?
Funny how there are a lot of big awesome important things on these lists, but the only one that's gotten me up excited enough to write a blog post in the past 3 years is a simple crosswalk. It really is the "little" things that make constituents happy or angry on a daily basis, and they are just as crucial to our success as a city as the big things. I can only hope our city government learns to take this to heart (from top to bottom) before we all give up.